ANTICA DIMORA SAN MICHELE – RESTAURANT – HOTEL
OPENING
Monday and Tuesday 7:00 to 14:00
Wednesday through Sunday 7:00 to 14:00 / 5:00 p.m. to 8:00 p.m.
Restaurant – Hotel housed in a nineteenth century building in the historic center of the medieval town of Lomello. A harmonious combination of ancient environments and new comforts, will accompany you for a cocktail, a dinner with friends or just a relaxing …
The cellar
It dates back to the early '500, adjacent to the churchyard of St. Michael (1121). Beautifully restored, welcomes the best wines of the most important regions of Italy, such as Piedmont, Lombardy, Veneto, Trentino, Liguria, Sicily, Campania and others.
All year we organize sightseeing tours
We offer package tours for groups
Special prices Pro Loco
Typical menus Lomello
Personalised menus
Office lunch from Monday to Friday at fixed price
Christmas lunch see poster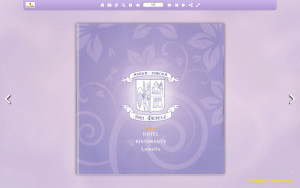 CLICK ON THE PICTURE TO BROWSE OUR DEPLIANT
Name ANTICA DIMORA SAN MICHELE
Activity Restaurant – Hotel
Address Via Roma, 2 – 27034 LOMELLO (PV)
Tel. 0384.85178/85203 – mobile 331 4570517
Fax 0384.85178
facebook Antica Dimora San Michele