PARISH CHURCH St GEORGE MARTYR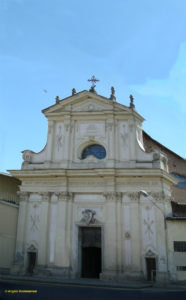 The parish church of San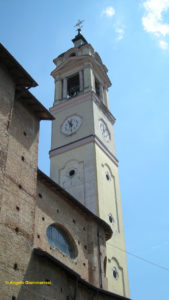 Giorgio di Lomellina dedicated to SAN GIORGIO MARTYR was built between 1671 and 1772 in place of the previous dedicated to Santa Maria.
The architect Giuseppe Caselli of Alexandria conceived it in the Baroque style, with a front two rows decorated with false columns flat in turn adorned with Corinthian capitals. Inside it looks instead to a nave with ambulatory.
Among today's special features include a table of B.V. Mary and a crucifix dating from the late fifteenth century.
While outside you can admire the highest bell tower of Lomellina, which was started to build in late 1500 by Aicardi and completed between 1781-1792.
As always happens in these cases record the height is a matter of dispute between those who support both 75 mt. and who extends the measure to 83 mt. In all cases it is the highest church tower of the Diocese of Vigevano.
Name St GEORGE MARTYR
Activity Parish Church
Address Via Carlo Botta – 27020 – SAN GIORGIO di LOMELLINA (PV)
Tel. n/a
Web n/a
e-mail n/a
facebook n/a